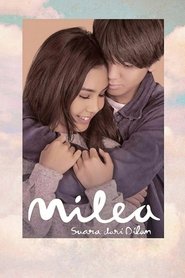 Milea: Suara dari Dilan
Before the grand reunion, Dilan decided to write and retell his love story with Milea. This is Dilan's way of remembering Milea.
Actor: Iqbaal Dhiafakhri Ramadhan, Vanesha Prescilla, Ira Wibowo, Bucek, Happy Salma, Muhammad Farhan, Yoriko Angeline, Debo Andrios, Zulfa Maharani, Gusti Rayhan, Omara Esteghal
Director: Titien Wattimena
Country: Indonesia
Duration: 102 min.
Quality: HD
Release: Feb 13, 2020
Production: MAX Pictures
Views: 62.965
IMDb: 5.510 14