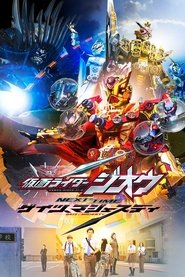 Kamen Rider Zi-O NEXT TIME: Geiz, Majesty
Geiz, Majesty is the first installment of the Kamen Rider Zi-O NEXT TIME series of V-Cinema films for Kamen Rider Zi-O. It focuses on the character Geiz Myokoin.
Genre: Action, Adventure, Science Fiction, Fantasy
Actor: Gaku Oshida, Kimito Totani, So Okuno, Shieri Ohata, Keisuke Watanabe, Rihito Itagaki, Ayaka Konno, Kentarou Kanesaki, Kohei Murakami, Minehiro Kinomoto, Hiroaki Iwanaga
Director: Nobuhiro Mouri
Country: Japan
Duration: 0 min.
Quality: HD
Release: Feb 28, 2020
Production: Toei Company, Ltd., Ishinomori Productions
Views: 4.249
IMDb: 6.910 7