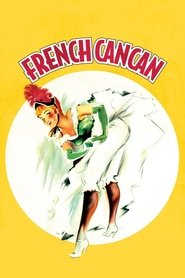 French Cancan
Nineteenth-century Paris comes vibrantly alive in Jean Renoir's exhilarating tale of the opening of the world-renowned Moulin Rouge. Jean Gabin plays the wily impresario Danglard, who makes the cancan all the rage while juggling the love of two beautiful women—an Egyptian belly-dancer and a naive working girl turned cancan star.
Actor: Jean Gabin, Françoise Arnoul, María Félix, Anna Amendola, Jean-Roger Caussimon, Dora Doll, Giani Esposito, Michel Piccoli, Édith Piaf, Franco Pastorino, Cora Vaucaire
Director: Max Douy
Country: Italy, France
Duration: 102 min.
Quality: HD
Release: Dec 27, 1954
Production: Jolly Film, Franco London Films
Views: 3.105
IMDb: 7.110 38