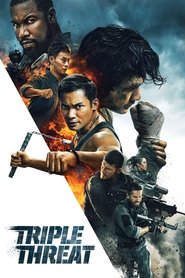 Triple Threat
A crime syndicate places a hit on a billionaire's daughter, making her the target of an elite assassin squad. A small band of down-and-out mercenaries protects her, fighting tooth and nail to stop the assassins from reaching their target.
Actor: Tony Jaa, Iko Uwais, Tiger Hu Chen, Scott Adkins, Michael Jai White, Michael Bisping, Celina Jade, JeeJa Yanin, Dominiquie Vandenberg, Michael Wong, Monica Mok
Director: Mike Leeder
Country: United States of America, China, Thailand
Duration: 96 min.
Quality: HD
Release: Mar 19, 2019
Production: Hamilton Entertainment, Kungfuman Culture Media
Views: 12.551
IMDb: 5.510 146