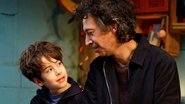 Box 27
Tom lives with his father in a container in poverty and happiness. The 10-year-old boy does good in school. But everything changes when a children protection worker gets involved.
Actor: Natalia Dontcheva, Delphine Rollin, Zabou Breitman, Eric Elmosnino, Pierre-Olivier Mornas, Marius Blivet, Clovis Couillard, Nejma Ben Amor
Director: Arnaud Sélignac
Country: Belgium
Duration: 90 min.
Quality: HD
Release: Jun 23, 2016
Production: Adrénaline
Views: 1.4
IMDb: 7.710 7