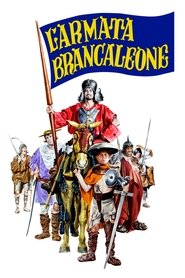 For Love and Gold
A group of rogues steal a scroll granting its bearer the property of the land of Aurocastro in Apulia (south of Italy). They elect a shaggy knight, Brancaleone from Norcia, as their leader, and decide to get possession of this supposedly wealthy land. Many adventures will occurr during the journey.
Actor: Vittorio Gassman, Catherine Spaak, Folco Lulli, Gian Maria Volonté, Maria Grazia Buccella, Carlo Pisacane, Ugo Fangareggi, Gianluigi Crescenzi, Alfio Caltabiano, Pippo Starnazza, Luigi Sangiorgi
Director: Agenore Incrocci
Country: Spain, France, Italy
Duration: 120 min.
Quality: HD
Release: Apr 07, 1966
Production: Fair Film, Cecchi Gori Group
Views: 7.617
IMDb: 7.810 158