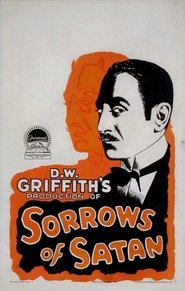 The Sorrows of Satan
Geoffrey is desperately in love with Mavis, who lives at his boardinghouse and is also pursuing a writing career. Unable to marry her because of his poverty, in his anger he curses God for abandoning him. Soon Geoffrey meets Prince Lucio de Rimanez, a wealthy, urbane gentleman who informs Geoffrey that he has inherited a fortune, but that he must place himself in the Prince's hands in order to enjoy the fruits of his inheritance. What Geoffrey doesn't know is that Prince Lucio is actually Satan.
Actor: Adolphe Menjou, Ricardo Cortez, Carol Dempster, Lya De Putti, Ivan Lebedeff, Marcia Harris, Lawrence D'Orsay, Nellie Savage, Dorothy Hughes, Josephine Dunn, Dorothy Nourse
Director: James Smith
Country: United States of America
Duration: 89 min.
Quality: HD
Release: Oct 12, 1926
Production: D.W. Griffith Productions, Paramount
Views: 1.053
IMDb: 710 2